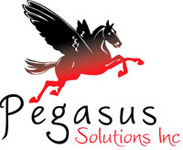 Pegasus Solutions, Inc.

693 East Central St

Second Floor

Franklin, MA 02038
office phone: (508) 570-4908

office fax: (508) 570-4916

Theresa L. Horky, CPA, CEO
Our Services include tax preparation, health care consulting and financial consulting.
Accounting



Budgeting


Strategic planning


Cost benefit analysis


Feasibility studies


Business office compliance reviews


Assistance with software reviews and conversions



Reimbursement



Medicare cost reports, Medicaid cost reports


Complete and submit quarterly user fee on-line with the division


Complete and submit annual direct care add-on


Negotiate managed care contract and rates with HMO payers


Regulatory assistance


Review of departments for potential cost savings


Accounts Receivable Credit balance audit assistance, Medicaid audit assistance, etc.



Billing/Accounts Receivable



Complete billing services


Bill monthly all services including: Medicaid, Private, Medicare part A/B, HMO part A and B, and DEMRC part B


Keep PNA accounts in compliance with regulations


Keep detailed AR aging, which ties out to general ledger


Skilled nursing home billing training


Interim or permanent solutions



General Ledger



Interim CFO/Controller or permanent part time health care expert


Interim office manager or permanent part time health care expert


Comprehensive accrual based monthly records


Reconcile bank accounts for payroll, operating and PNA accounts


Work with your auditors to complete 401k audits


Provide information for workers comp audit


Financial statements preparation - monthly, quarterly, yearly. Provide written summary on monthly performance, with enhancements noted.



Accounts Payable



Cash flow management


Coding and entering A/P


Process vendor checks


Tracking nursing agency


Ensure invoices agree with your contracted pricing


Provide proper internal controls


Services can be provided on site or at our location


Interim or permanent solutions



Payroll & Human Resources



Provide regulatory assistance


Process payroll from start to finish


Quarterly taxes


Use your software or any payroll company


Provide detailed payroll reports weekly, monthly, quarterly, and annually


Interim or permanent solutions



Tax Preparation



Individual returns


Corporate returns


Partnership returns


Pegasus Solutions, Inc.
693 East Central St ~ Second Floor ~ Franklin, MA 02038 ~ (508) 570-4908